Slingo Centurion Tips: Exciting Features to Play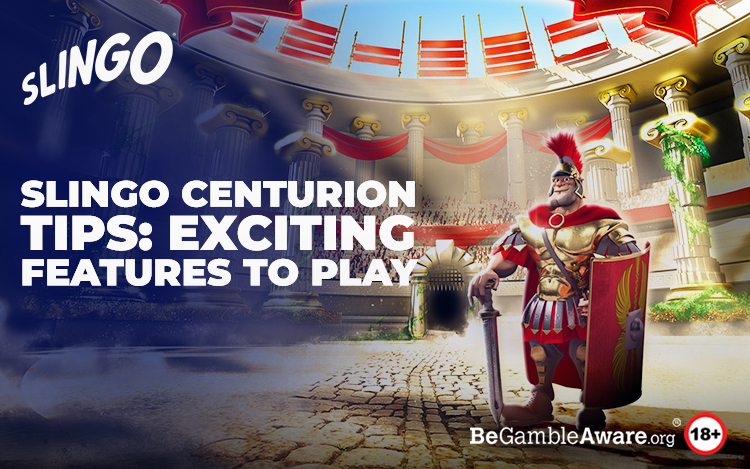 Play Slingo in Ancient Rome with Slingo Centurion
If you're a slots fan you've probably already heard of the classic game Centurion; a slot machine set in ancient Rome. In recent years, developer Slingo Originals has gotten hold of the classic smash hit slot and has transformed it into the winning Slingo formula. Where the Centurion slot had a more serious edge, like most Slingo games, Slingo Centurion takes a far more light-hearted approach.
Taking center stage in the Slingo Centurion slot machine is cooky character Maximus Winnus a centurion leader with a chiseled jaw like no other! Join us as we take a closer look at the Slingo Centurion slot machine, including all the great features included and some tips and tricks to get you started. 
How To Play Slingo Centurion
Unless you're playing the Slingo Centurion Freeplay, you'll need to set your stake amount using the + and - buttons in order to play Slingo Centurion. The settings menu, which is accessed by pressing the spanner symbol, contains these buttons. When you're satisfied with your amount, press the 'Spin' button to begin spinning the reels and see if you've struck it rich.
A 5 by 5 gaming interface with a single reel will be offered to you in terms of aesthetics. The goal of Slingo Games is to match the numbers on the grid with the numbers that appear on the reels. You can earn a Slingo and advance up the reward ladder by matching a full line of symbols. If you collect a total of 11 symbols, you'll have a full house and will be eligible for the game's highest paying payoff.
The Joker and Super Joker, as mentioned previously, are among the traditional symbols found in this Slingo game. These Jokers will easily mark off numbers and finish Slingos. The free spins symbol will extend your gameplay by awarding extra spins, however, the devil symbol will prevent you from making matches. 
How to Win on Slingo Centurion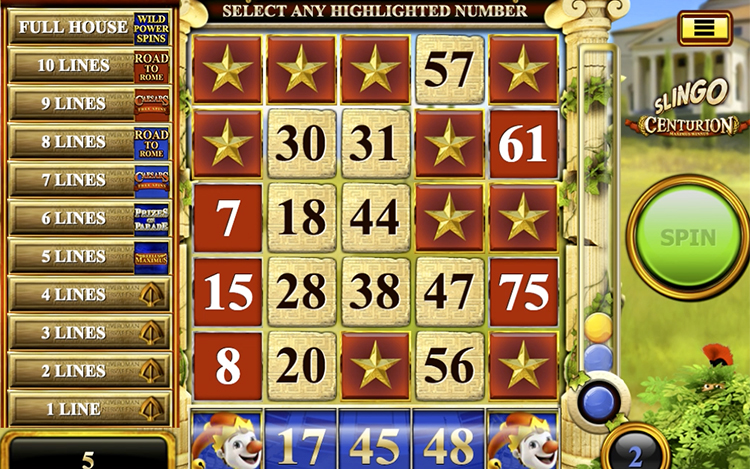 You have ten spins in Slingo Centurion to match the numbers on the reels to those on the grid. Winning lines from left to right complete Slingos. A complete house is earned by crossing out all of the numbers on the game grid, and it is how the game's top payment is obtained. Bonus games are triggered when this happens. Prizes on Parade, Caesar's Free Spins, and Road to Rome are just a few of the intriguing bonus games available, and they all provide different chances to win. Keep on reading to find out more about each of these exciting bonus features which can greatly increase your odds of winning at the Slingo Centurion game. 
The following features will play out as each Slingo is completed, in the following format:
5 Lines - Triggers the Reelus Maximus Feature

6 Lines - Triggers Prizes on Parade

7 Lines - Triggers Caesar's Free Spins

8 Lines - Triggers Road to Rome feature

9 Lines - Triggers Caesar's Free Spins

10 Lines - Triggers Road to Rome

Full House Triggers Wild Power Spins
Make the Most Out of Slingo Centurion Bonus Features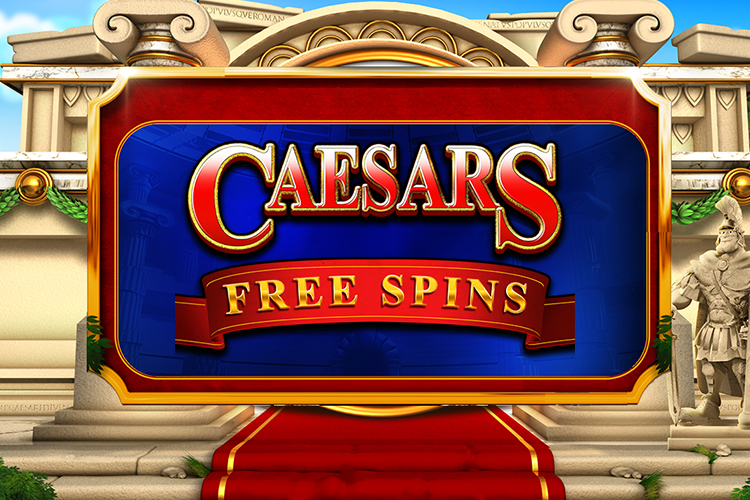 Unlike many other Slingo Games, Slingo Centurion has lots of great bonus features, similar to a modern slot machine. Here's a rundown of the great features on offer:
Reelus Maximus
5 Slingos will unlock the Reelus Maximus bonus, which is played on a 5-reel slot featuring enormous symbols on the first three reels.
Prizes on Parade
Prizes on Parade is the next bonus on the bonus ladder, and it summons three Centurions to your screen, each holding a shield with multipliers on it. On the first shield, a light will dance over the multiplier amounts, and you must press the 'stop' button to stop the light and earn the prize. If you land on the arrow, you'll go to the next shield, which has a higher multiplier and so more chances to win.
Caesar's Free Spins
To select the number of Free Spins you'll receive, spin the first wheel, then the second wheel to determine the multiplier that will be added to your spins. Caesar's Free Spins Red, a feature that boosts the number of spins and multipliers, emerges further up the bonus ladder!
Road to Rome
You'll be transported to a board game where you'll be given 5 dice rolls. Land on the various multiplier values on the board to earn prizes, and if you're lucky enough to proceed to Rome, you'll win a large cash jackpot! If you land on the dice symbols on the board, you can even earn extra rolls. This bonus, like Caesar's Free Spins, has a crimson version with increased payouts.
Wild Power Spins
Three power spins are provided, with wild blocks increasingly appearing on the second, third, and fourth reels.
Extra Spins
Players can purchase more spins after they have completed their first 10 spins plus any free spins they have been offered, allowing them to progress further up the reward ladder and perhaps reach better winnings. The cost of each spin is displayed above the spin button, and players can purchase an unlimited number of spins here.
Play Slingo Centurion Online at Slingo.com
Now you know the ropes it's time to get to it and give the Slingo Centurion slot machine a try. Play this fabulous Roman-themed slot machine at Slingo.com. Sign up and play!